---
Main content
Top content
Top content
"Law Feminist - A Film Series for All" in the upcoming winter semester
10. October 2023
The team of the decentralized equal opportunity officers of the Department of Law and Prof. Johanna Wolff present in cooperation with CinemaUOS the film series "Recht Feministisch - Eine Filmreihe für alle".

Even though many people encounter feminist topics in their everyday lives, not everyone has the same level of contact with them. In order to offer an easy introduction to the discussion of feminism, an invitation is extended to watch one or more films in our film series that deal with feminist or women's rights issues.

A mix of feature films and documentaries will be shown on the following dates in Room 22/B01 - admission always begins at 8:00pm and screenings start at 8:15pm:
25.10.2023: She said (Spielfilm)
08.11.2023: RBG – Ein Leben für die Gerechtigkeit (Dokumentarfilm)
22.11.2023: Call Jane (Spielfilm)
06.12.2023: Überraschungsfilm (Ein Dokumentarfilm über Frauen im Bundestag)
Unlike going to the movies, our film series allows you to bring your own drinks and snacks. Admission is free for all.

We look forward to a large attendance and are happy to be available for an exchange about the films after the screenings!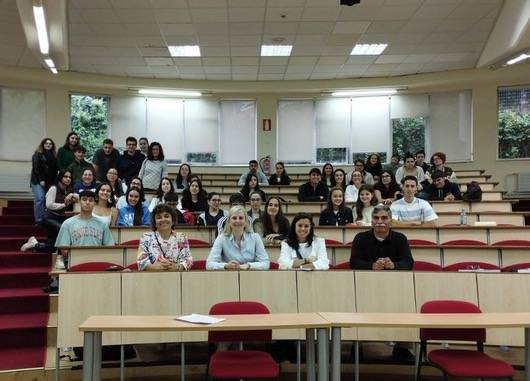 Lecture on medical liability law by PhD student Lena Esser at the Universidade de Santiago de Compostela
21. September 2023
As part of her Erasmus Staff Mobility participation, Lena Esser, a PhD student and research assistant with Prof. Dr. Schulte-Nölke, gave lectures on medical liability in German contract law to second-year law students at the Universidade de Santiago de Compostela in Spain on September 20 and 21, 2023.

The focus of the lecture was on German treatment contracts. Specifically, Ms. Esser spoke about the contractual obligations of physicians under the German treatment contract, such as, among other things, that treatment must be provided according to medical standards and about the physician's duty to inform the patient. The goal was to explain relevant aspects of German contract law in the context of medical liability in relation to Ms. Esser's PhD project regarding health apps.

In addition, students were encouraged to participate in international mobility activities to develop new skills.

According to Ms. Esser, she became aware of the opportunity to teach at Erasmus partner universities last year through the ERASMUS program. With the support of Dr. Matthew LeMieux, she was able to find a suitable university. At the Universidade de Santiago de Compostela, she received a very warm welcome and was fully integrated into the everyday life of the university by her supervising professors and the associated doctoral students.
Law Faculty Hosts Osnabrück's 2nd League Football Club
July 10, 2023
Prof. Dr. Lars Leuschner hosted a lively meeting with VfL Vice President Christoph Determann, with approximately 100 students and professors in attendance. The group took part in a rousing lecture featuring controversial football business related topics. After a greeting by VfL President Holger Elixmann, Managing Director of the professional soccer team, Dr. Michael Welling took the audience on a ride through the regional economic significance, self-image and strategy of the club and its professional team. The evening wrapped up with an event hosted by Department's alumni association, "OsnaLex e.V.", at the Grüner Jäger.
Inaugural UOS Criminal Law Moot Court Team Has Success
June 28, 2023
The Law Department's first Criminal Law Moot Court team had successful debut coming in fourth place at the 2023 Criminal Law Moot Court in Cologne. Representing the Department in the first round was André Gantschnig and Rebekka Stahlhut (both 6th semester). They were followed in the second round by teammates Hannah Kosanetzki (6th semester) and Lev Tarasyuk (4th semester). Supervision for the team was provided by Professor Dr. Roland Schmitz at the Institute for Economic Criminal Law and the research assistant Antonia Vogt coached the team. More information in German can be found here.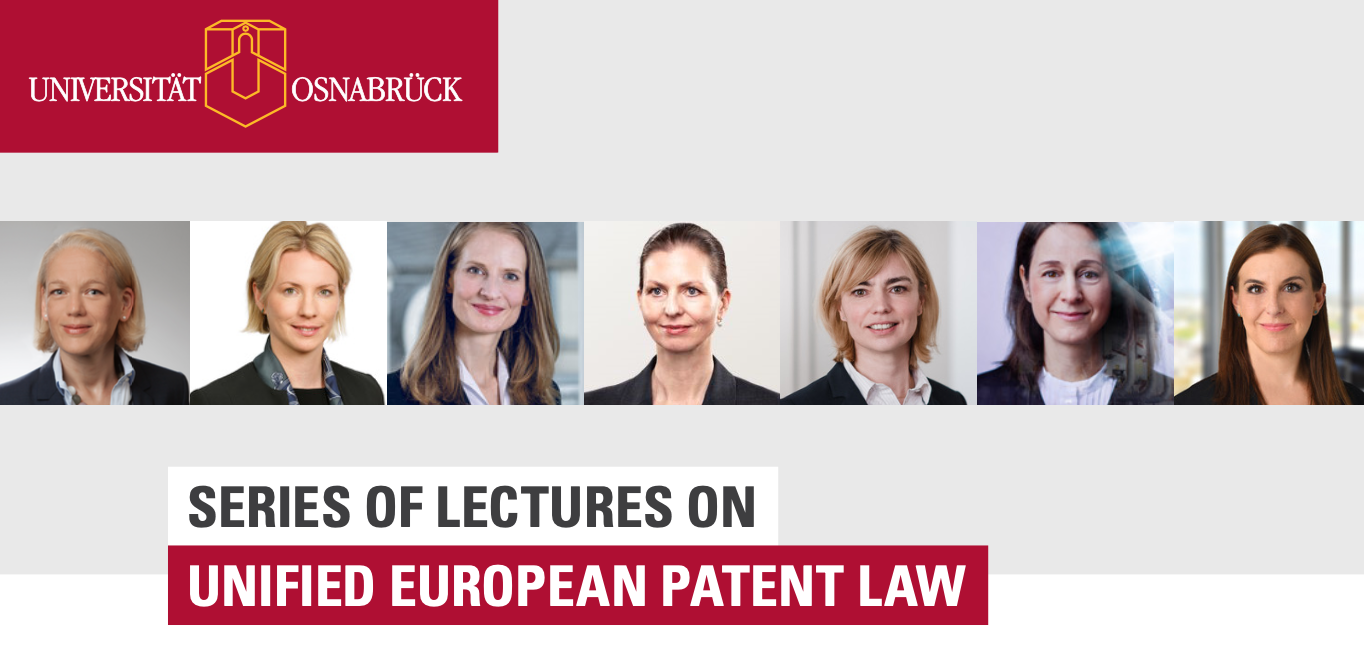 Practical teaching: Lecture series "European Patent Law" - starting Monday, 22.05.2023!

May 22, 2023
On June 1, 2023, the European Patent Court will open its doors. From then on, patent disputes - i.e. disputes under private law - will be decided by a genuine European civil court according to uniform European procedural rules.

The patent community has closely followed the choice of court locations in Germany (Düsseldorf, Hamburg, Mannheim and Munich) as well as the appointment of the judges.

Infringement claims are, at their core, tort law. And invalidity proceedings also often involve issues of entitlement and ownership, contractual assignment, and assertion. Clearly, IP law is - once again - paving the way for European harmonization.

The event has attracted an impressive all women panel After an introductory session on the "Unified Patent Court" by Mary-Rose McGuire, all other sessions will be given by IP attorneys who will not only share their knowledge of the patent system, but also provide insight into what it's like to work in the field. In addition, career opportunities in patent law will be highlighted.

Lectures are weekly and in English, questions in German are welcome.

Lecturers: Dr. Nora E. Wessendorf, LL.M. (Taylor Wessing), Dr. Eva Maria Thörner (WILDANGER), Dr.med.dent. Antje Brambrink (Finnegan), Hetti Hilge, LL.M. (Norwich, UK), (rospatt osten pross), Miriam Kiefer LL.M. (KATHER - AUGENSTEIN), Miriam Gundt, LL.M. (Hogan Lovells), Dr. Bérénice Thom (LG Düsseldorf and EPG).
47th Feminist Lawyers' Day
June 5, 2023
From May 12 to 14, 2023, the 47th Feminist Lawyers' Day (FJT) was held at its then founding venue in Frankfurt am Main. Several female academic staff and students expressed curiosity and, after a drawing from 480 interested participants, attended with financial support from the department.
Nele Ewald and Kristina Dierkes have recorded their impressions in a conference report: https://www.feministischer-juristinnentag.de/ (in German)
Jura in Osnabrück again at the top of the CHE Ranking
June 5, 2023
The University of Osnabrück has once again taken a top position in the CHE ranking for the study of law published on May 9, 2023. The overall picture is impressive in the three main categories of general study situation, initial study support and exam preparation. Here, Osnabrück belongs to the absolute top group of the top 3 of all German law schools. We are particularly pleased that we have improved even further in the categories "support by teaching staff" and "digital teaching". Also particularly pleasing: the Department of Law at the University of Osnabrück even scored above the average of the other faculties in all other of the 16 categories.
The CHE ranking has impressively confirmed: "Law in Osnabrück: always better!".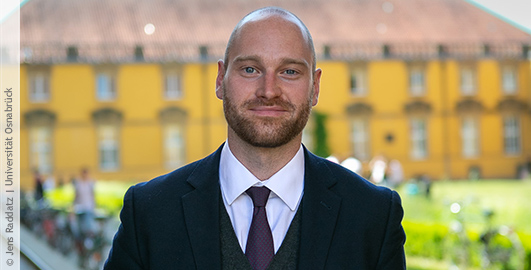 Welcome Prof. Dr. Markus Lieberknecht!

June 5, 2023

The University of Osnabrück welcomes Prof. Dr. Markus Lieberknecht, LL.M. (Harvard) to the Department of Law! As of June 1, Dr. Lieberknecht holds the assistant professorship for Civil Law and Civil Procedure in the Digital Transformation. In addition to the impact of digitalization on private law and the future design of litigation, his research interests include corporate law and conflict of laws. Welcome!
Osnabrück to host the Young Property Lawyers' Forum (YPLF) in 2023
June 5, 2023
The YPLF is a worldwide informal network for young researchers in the field of property law, who are supported by experienced researchers and meet once a year. The YPLF network is an important discussion forum for young scholars. The current program includes lectures by Prof. Christian von Bar and Prof. Hans Schulte-Nölke as "keynote speakers". Prof. von Bar will also present the English version of his property law book. The theme of this year's conference is property law and its limits - illuminated from different perspectives. The conference is co-organized by the chair of Prof. Dr. Hans Schulte-Nölke, the PhD student Daria Kupczyńska and the International Jurists Association Osnabrück (IJVO).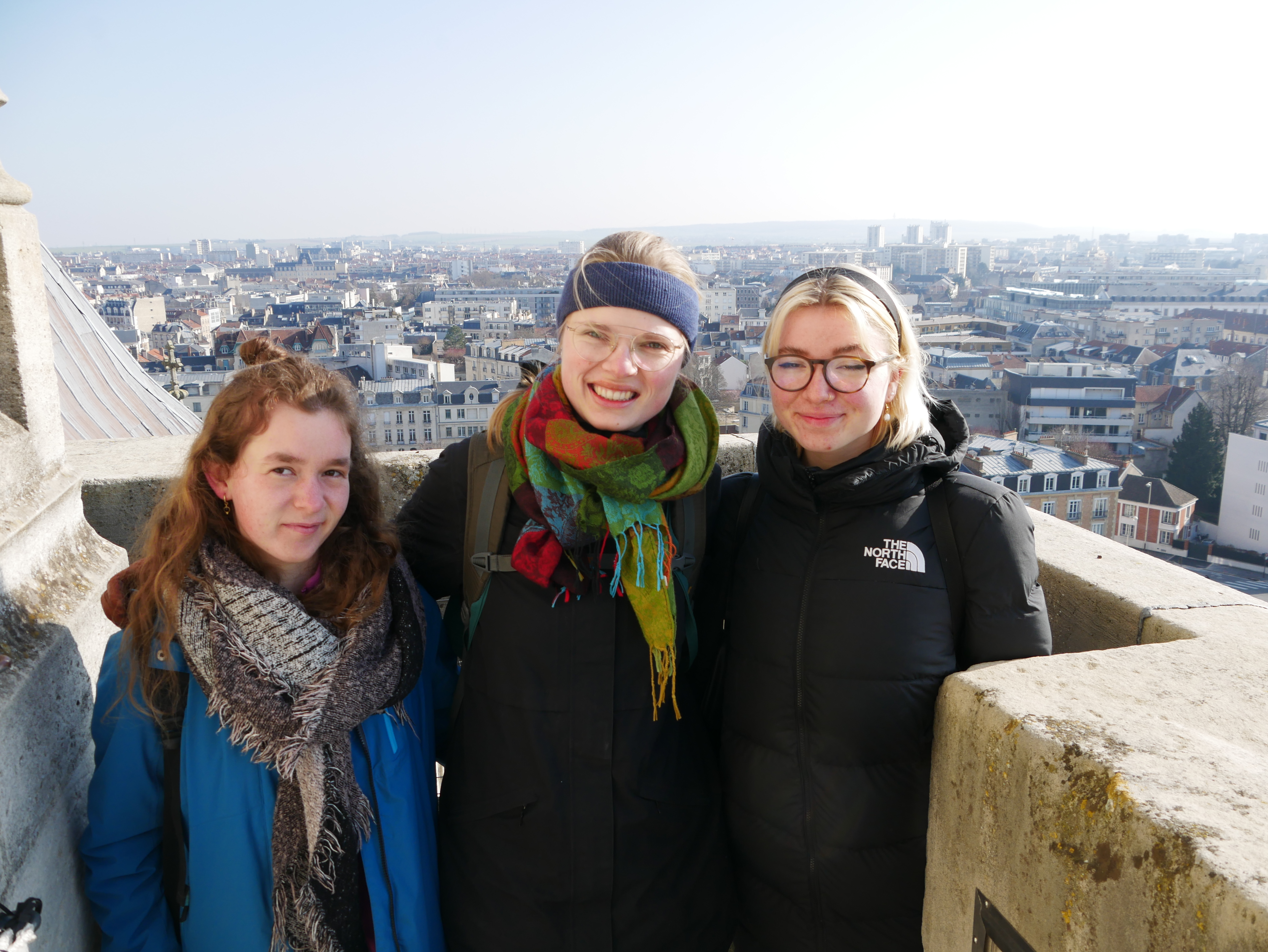 French course visits Reims University - deepening linguistic and legal knowledge in France

25 April 2023
From February 27th March 3rd participants of the Foreign Law Program's French course traveled to France and were given the valuable opportunity to deepen their linguistic and legal knowledge.

Prof. Dr. Nathalie Baillon-Wirtz, lecturer for French private law in Osnabrück, organised a visit to the University of Reims, where she is a professor for notary studies. Through their visit, the participants were engage in comparative analysis of French notaries, both their workload and education, in comparison to Germany, as well as see firsthand the differences in studies and lectures at a French university.

An additional highlight was the visit to the Palais de Justice and a press conference by the Minister of Justice. Tourist activities such as a visit to the cathedral and the champagne cellars rounded off the programme. The participants were received with great hospitality by the notary students - making the exchange an unforgettable experience.
Markus Lieberknecht awarded the Gerhard Kegel Prize
20 March 2023
The German Society for International Law has awarded the Gerhard Kegel Prize to Dr Markus Lieberknecht, a member of staff at the chair of Prof. Dr Leonhard Hübner, MJur (Oxford), for his doctoral thesis on the international dimension of managerial liability. The thesis examines the extent to which board members must ensure compliance with foreign legal standards in cross-border activities.

In his doctoral thesis, Dr Lieberknecht deals with the so-called duty of legality from an international perspective. This requires the board of directors of a public limited company to ensure that the company's conduct complies with the law. Dr Lieberknecht develops solutions for two central problem areas - for conflicts of norms and the resulting conflicts of duties of the board of directors, as well as for dealing with legal ambiguity in a cross-border context. The work was already awarded the Südwestmetall sponsorship prize in 2022.
For further information

Dr. Markus Lieberknecht, LL.M. (Harvard)
Research Associate
Prof. Dr. Leonhard Hübner, MJur (Oxon)
European Legal Studies Institute
University of Osnabrück
Süsterstr. 28
49074 Osnabrück
markus.lieberknecht@uni-osnabrueck.de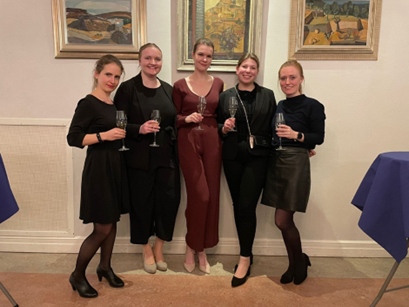 A Successful Week at the European Law Moot Court (ELMC) Competititon
03 March 2023

This year's European Law Moot Court (ELMC) team, Hedda Horstick, Merle Möhlmann and Rebekka Stahlhut traveled to Lund, Sweden, as representatives of the University of Osnabrück and the Department of Law.
The ELMC is an international student competition in which the participating teams take on the role of lawyers and represent the parties in a fictitious legal dispute before the Court of Justice of the European Union.

The regional final in Lund took place from 23-25 February 2023. Over the course of three days, the students argued issues concerning the effect of EU court rulings in the member states, compensation obligations for environmental pollution, and the loss of EU citizenship due to legal regulations. The Osnabrück team competed against students from Columbia University in New York and the eventual finalists from the universities of Paris and Leuven. In total, teams from twelve different universities took part in the regional finals in Sweden and presented their arguments to the high-caliber bench.

Even though they did not reach the semi-finals, the team and their supervisors Pia Ahlers and Lena Hupe (Prof. Dörr) considered their participation in the competition a great success. Just making it to a regional final is not something that can be taken for granted, as only 48 out of around 100 teams manage to do so every year. In addition, the team greatly improved its rhetorical skills in the weeks leading up to the competition and leave the competition with skills that will last them a lifetime.
The Osnabrück team was supervised by Prof. Oliver Dörr and the research assistants Pia Ahlers and Lena Hupe.

For further information:

Dipl. Jur. Pia Ahlers
University of Osnabrueck
European Legal Studies Institute

https://www.doerr.jura.uos.de
Lecture by Prof. Groß at the Sorbonne in Paris
February 13, 2023
At the invitation of the French Society for Legal History, Prof. Dr. Thomas Groß gave a lecture at the Sorbonne in Paris on February 11, 2023, in which he presented the main results of his research on administration and law in ancient ruling orders. In the presentation he comes to the conclusion that already in the early states of the ancient Orient administrative tasks were conducted. A legal basis for the actions of officials, on the other hand, was not introduced until Athens and Rome.

For further information

Prof. Dr. Thomas Groß
University of Osnabrueck
European Legal Studies Institute
www.gross.jura.uos.de
#JURAinOS - Follow us on LinkedIn
12 January 2023
Here on the Department website, one can regularly read important information concerning their studies and news from the department. However, in order to network with the department and professors, to exchange ideas and to give feedback, we invite you to our LinkedIn page! Here we will report on news that is of interest to the Department's community, which includes our network of alumni and practitioners.You can find us on LinkedIn under #UOS Law School and every Monday a fresh post with news from the Department, event notes, background information and much more. The LinkedIn platform is free of charge. Last but not least, one can also find the UOS and more than half of the professors of our department there and learn about interesting publications and research projects in real time.
New research project on the regulation of online platforms in South Korea
12 January 2023
A German-Korean research group led by Prof. Dr. Christoph Busch (Osnabrück) and Prof. Dr. Byung Jun Lee (Seoul) will study the regulation of online platforms in the EU and South Korea from a comparative law perspective starting in January 2023. The one-year pilot project is funded by the German Research Foundation and the National Research Foundation of Korea.Learn more about the project here
Prof. Busch advises federal government on consumer policy
12. January 2023

Prof. Dr. Christoph Busch has been appointed to the German Council of Consumer Experts (SVRV) at the German Federal Ministry for the Environment, Nature Conservation, Nuclear Safety and Consumer Protection (BMUV) for four years, effective Dec. 1, 2022. The SVRV consists of nine members and advises the German government on consumer policy and sustainability issues.

The full announcement can be found here.
New partnership with English university
01.January 2023
The Department of Law is pleased to announce a new Erasmus partnership with the University of Sussex in Brighton, England. Each year we will be able to send two students from the department and one faculty member to England under the ERASMUS exchange program. Applications for a semester abroad in the upcoming academic year (WS 2023/24 and SS 2024) can be submitted to the department's Erasmus office until 01/03/2023. Further information can be found on the Erasmus+ website, for questions please contact the Erasmus office (erasmus@uni-osnabrueck.de).